· LAN to LAN Interconnect with Data Rate Governor ·
The LAN·GOV is used to interconnect Ethernet LANs through a data rate governor. The data rate governor utilizes Time Division Multiplexing based clocking to provide for Nx64, NxT1 and NxE1 bandwidth regulation that is configurable from 64 kilobits up to DS3.
Governing the WAN bandwidth utilized by an Ethernet LAN enables the reservation of WAN bandwidth for time sensitive real time connections such as those required by Video Conferencing, Voice Over IP and T1/E1 Over IP applications.

LANGOV Brochure in PDF Format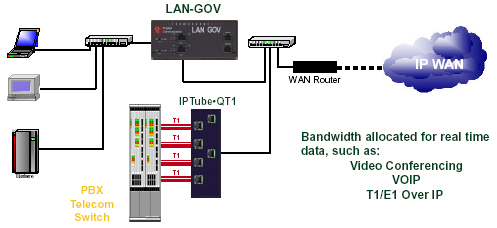 Wide Area Networks
Enterprises, Education, Government Agencies and Organizations are able to deploy LAN·GOVs to restrict network segments utilization of Wide Area Network Bandwidth. Governing a LAN segments Bandwidth is transparently implemented.
Service Providers
Unrestricted Ethernet connections provided by networking service providers enable subscribers to overburden the Service Providers network. The LAN·GOV enables service providers to limit a subscriber to a commited infomation rate.
Wireless Ethernet
Bridged connection such as those implemented in Wireless Ethernet bridges typically do not implement a method to ensure that the real time connections have priority. The LAN·GOV provides a straight forward method to ensure real time data delivery.

Governing Data Rate Versus Quality of Service
Governing general traffic bandwidth is straight forward and easy to implement. Data rate configuration is all that is required.
Quality of service in complex networks is cumbersome. Access to routers or switches in the link that are maintained by service providers or different organizations within an enterprise are difficult at best. Maximum Transfer Unit configuration may be required at low performance WAN connections for QOS.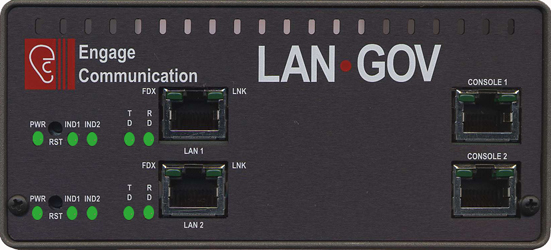 LAN Network Interface:
• Two 10/100 BaseT Full/Half Ethernet
• Autonegotiation or Configurable Speed and Duplex

LAN Network Protocols Supported:
• IP, TCP, UDP, ICMP

Regulatory:
• Safety -IEC60950
• EMC - CFR 47 Part 15 Sub Part B:2002
EN55022:1994+A1&A2
EN55024, ICES-003 1997
CISPR 22 Level A
• CE

Dimensions:
• 14" (L) x 5.5" (W) x 2.50" (H)

TFTP Upgrade Capable (Flash ROMs):
· IPTube is operational during upgrade

Management:
· Telnet support with Edit and Paste Templates
· Console Port for Out of Band Management
· SNMP support (MIB I, MIB II)
· Remote configuration, monitoring, & reset

Console Port:
· RJ45 to DB9 Female DCE adapter shipped with product. Enables direct connection to Com1.

Power:
· 15VDC, 1.6A; International Adapters Available
· 24-36 VDC Optional
· -48 VDC Optional
• Hot Standby with 2nd Power Module
Engage Communication · 9565 Soquel Drive, Aptos, CA 95003
Tel: (831) 688-1021 · Fax: (831) 688-1421 · sales@engageinc.com

© Copyright 1989-2005 Engage Communication, Inc. Engage Communication has moved to WWW.ENGAGEINC.COM